安川 幸聖理 Mimari Yasukawa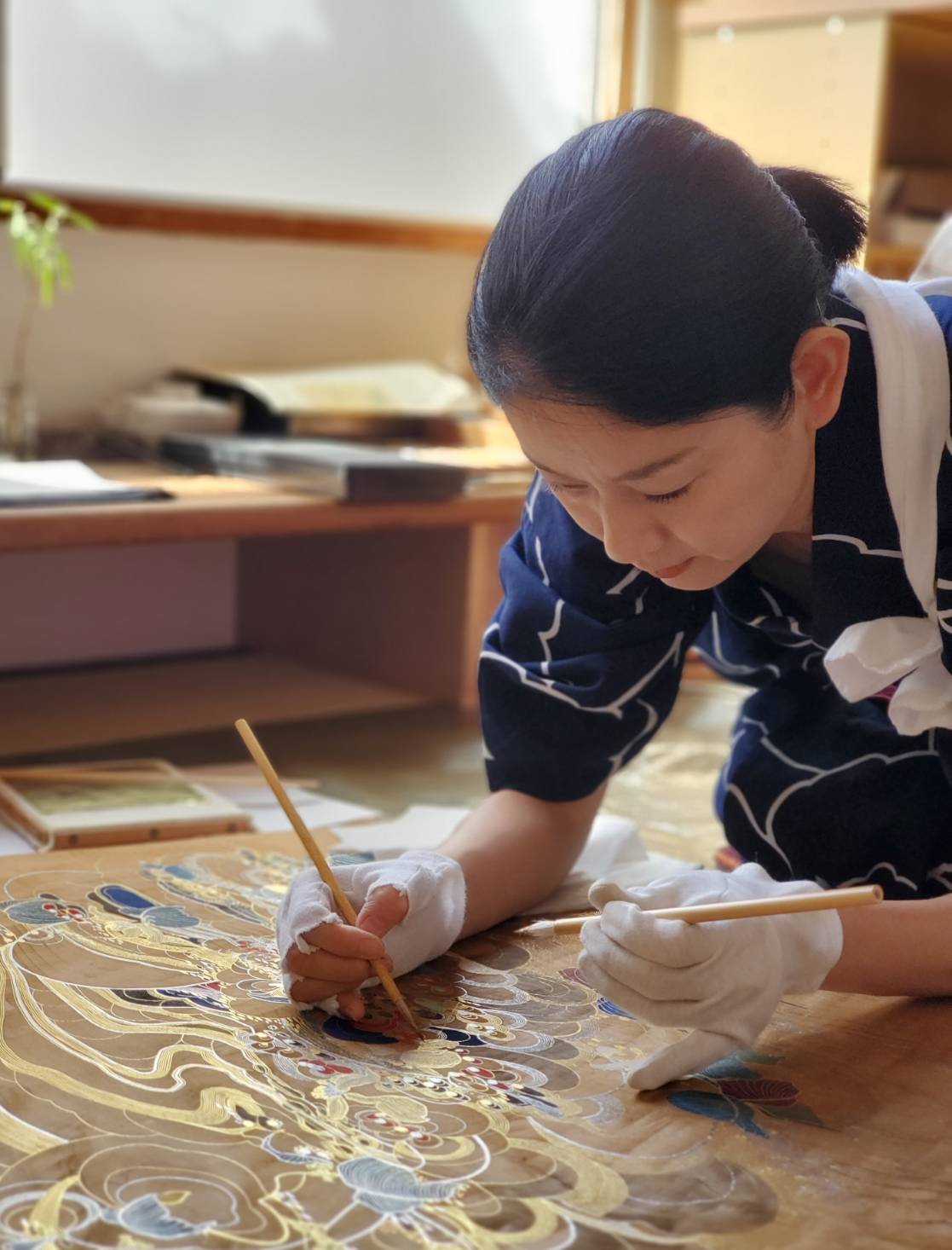 截金
1975年京都に生まれる。
神社仏閣の宮絵師である父のもと、日本文化の色彩を身近に触れる環境に育ち、仏像を荘厳するために施す伝統技法の截金に出会う。
使い捨て社会、便利な現代に生きている中、歳月を重ねた古材や流木に魅了され、それらに自然世界から受ける感動を截金で表現している。
古材や流木を求め、2001年アメリカ単身渡米。
その後、沖縄八重山諸島に流木を探し巡る。
現在は、三井高棟の骨董・鹿苑寺天井板・海龍大寺古材・鳥海山神代杉等、日本銘木古材にも作品を施している。
1998年より、ギャラリー、百貨店にて個展、グループ展多数出展
2000年京都美術工芸展入選
2002年京都工芸新人選抜展(京都文化博物館)
2005年京都新鋭選抜展(京都市美術館)等に出展
Born in Kyoto in 1975.
Her father was a Buddhist temple artist called a "Miyaeshi". Mimari was introduced to the traditional art called "Kirikane" since she was a child, which is a traditional artistic style using gold paper to decorate statues of Buddha.
She opposes to the life of convenience using disposable materials, Mimari expresses the beautiful nature of wood and wood drifts through "Kirikane".
In 2001, Mimari traveled to the United States in search of aged wood and wood drifts.
Later she moved to Okinawa to do the same.
She applied her work onto Antiques of Mitsui Takamune, Rokuonji ceiling board, Kairyudaiji old materials, Chokaisan Jindai cedar, and precious antique woods, etc.
Since 1998, she exhibited at numerous galleries, exhibitions and department stores.
In 2000, she received an award at Kyoto Art and Crafts Exhibition.
In 2002, she exhibited at Kyoto Craft Newcomer Selection Exhibition.
In 2005, she exhibited at Kyoto New Artists Selection Exhibition.